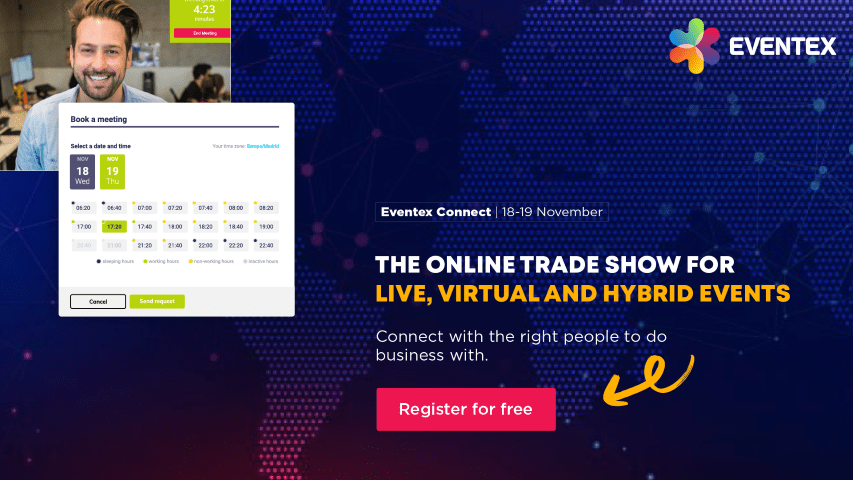 Only 2 Weeks to Eventex Connect
vom 05.11.2020
veröffentlicht über meinMemo
They say good things come to those who wait. Thankfully the wait is almost over and Eventex Connect is only two weeks away. Here's what we know about the highly anticipated online trade show for live, virtual and hybrid events.
You can start booking your meetings now
With two weeks to go, now would be the perfect time to start working on your agenda for Eventex Connect. Connect with participants from around the world, book your video meetings, make the business connections you thought impossible until now. The trade show uses a brand new next-gen matchmaking software to facilitate all this, so you can enjoy peak efficiency during the trade show.
The program is pretty awesome too
Eventex Connect promises to deliver a program of 30+ highly interactive sessions, full of actionable advice, valuable insights, solid strategies, useful solutions, current and upcoming trends in the meetings and events industry, and so much more! Where the previous edition focused mostly on virtual and hybrid, this time the trade show is going the everything events route.

Eventex Connect for Exhibitors
Eventex Connect has a very targeted audience, where more than 80% of the buyers are decision makers and high level management. This means you get to show your products or services globally and in front of the right people. As with the previous edition of the trade show, there's a FREE exhibitor package for up to 2 meetings. The standard package offers unlimited meetings and access to the event program. The real value propositions come with the two premium packages, which provide exclusive access to the trade show's Select Buyers - key decision-makers that operate with large event budgets for big agencies, corporations, associations, etc.
Eventex Connect for Visitors
The #1 online trade show for live, virtual and hybrid events is free for visitors. More importantly, you get to enjoy the full experience without the time and cost associated with travelling. On top of the great program, potential buyers can check out a number of great tech solutions, explore various services, watch venue presentations and meet suppliers for the events industry.
Register for Eventex Connect today
Don't linger because two weeks will fly by before you even know it. Now would be a great time to register for Eventex Connect so you can carefully consider your agenda to make the most of the upcoming trade show. See you there!